TOP
Green Apple Nectar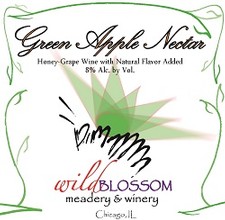 Wine Specs
Fermentation
Stainless Steel
Riesling grapes fermented with refreshing green apples and honey make this a perfect pairing.
Wine Specs
Fermentation
Stainless Steel
Product Reviews
Erin Gallagher
(Apr 13, 2017 at 11:07 AM)
We served this at our biannual tasting event. It was exceptionally popular. light taste of crisp apple was delightful. Sweetness was very balanced.
Maureen Jerge
(May 23, 2020 at 8:01 AM)
You'll be spoiled after tasting this delicious mead. Tart and refreshing with a hint of sweetness. My husband and I enjoy this mead.
Caitlyn Weber
(Jul 26, 2020 at 10:08 AM)
I love this mead! It's the perfect level of sweet and tart! By far my favorite alcoholic beverage. The only frustrating thing is that it is not often available near me.
CHRISTOPHER MIRTIA
(Nov 14, 2020 at 10:13 PM)
This mead is absolutely amazing! A perfect balance of sweet and crisp. Definitely a great purchase!