TOP
Pomegranate Nectar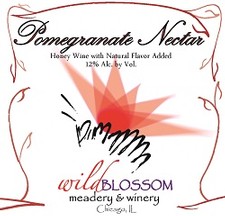 Wine Specs
Fermentation
Stainless Steel
Wildflower honey fermented with pomegranates. The tart flavors of pomegranates are a perfect match with honey.
Wine Specs
Fermentation
Stainless Steel
Product Reviews
Laurie Stone
(Dec 15, 2016 at 6:39 PM)
Delicious!!! Very nice tart mixed with sweet flavor.
Erin Gallagher
(Apr 13, 2017 at 11:24 AM)
We served this at our biannual tasting. It's astonishing. I love pomegranates. I can't get enough of them. So rare is it to find a wine or cordial that best captures the tartness of the pomegranate. You guys nailed it. This was a lovely smooth mead and it had an excellent mouth feel. It paired well with the homemade gourmet potato chips with blue cheese dip that we had as an offering. Light and crisp - this is definitely one I'll be getting for myself in the future and not sharing...er...I mean sharing with as many people as possible so they can enjoy it too.
Alexis
(Feb 7, 2021 at 7:03 AM)
I hadn't tried mead before. I really like it. Some wines can be really dry. This wine is smooth and the pomegranate is sweet, but not too sweet.