TOP
White Honey Sangria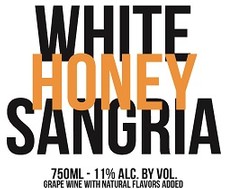 Wine Specs
Fermentation
Stainless Steel
white wine sangria sweetened with wild flower honey, bursting with peach flavors.
Wine Specs
Fermentation
Stainless Steel
Product Reviews
Keri-Ann Bickley Evenson
(Sep 6, 2020 at 11:31 AM)
We just received our first Mead Club shipment and opened the White Honey Sangria. My husband and I are both pleased with its crispness.
Kimberly
(Nov 19, 2020 at 9:07 AM)
While "smooth" is not a description usually used for sangrias, I thoroughly enjoyed this one and possibly because of the honey, it had a smooth, lovely taste to it. Definitely recommended.
Alexis
(Feb 7, 2021 at 7:00 AM)
The Sangria is delicious! Sweet, but not too sweet. There is a balanced floral and fruity taste.