TOP
White Honey Sangria
750 ml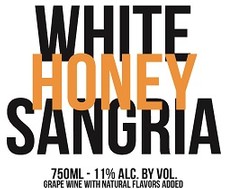 Wine Specs
Fermentation
Stainless Steel
white wine sangria sweetened with wild flower honey, bursting with peach flavors.
Wine Specs
Fermentation
Stainless Steel
Product Reviews
Angela Higginbotham
(Jul 18, 2016 at 4:56 PM)
This serves as an excellent Sangria for a party. Just add fruit and serve. DELICIOUS!!
Liz Wakeman
(Jan 9, 2017 at 7:16 PM)
Tried this at the Village of Lake in the Hills Summer Sunset Fest and loved it.... so I bought some.... and am now buying more! Light, refreshing and unique! A nice treat!
Nathan Jacobs
(Nov 30, 2017 at 10:55 AM)
This was a hit at Thanksgiving. Sweet but not too sweet and even the cabernet fans liked it. Very smooth and I'll definitely order more.
Keri-Ann Bickley Evenson
(Sep 6, 2020 at 11:31 AM)
We just received our first Mead Club shipment and opened the White Honey Sangria. My husband and I are both pleased with its crispness.
Kimberly
(Nov 19, 2020 at 9:07 AM)
While "smooth" is not a description usually used for sangrias, I thoroughly enjoyed this one and possibly because of the honey, it had a smooth, lovely taste to it. Definitely recommended.
Alexis
(Feb 7, 2021 at 7:00 AM)
The Sangria is delicious! Sweet, but not too sweet. There is a balanced floral and fruity taste.