TOP
Wildberry Nectar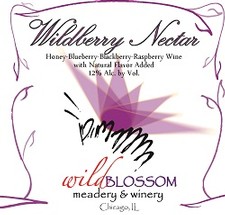 Wine Specs
Fermentation
Stainless Steel
A succulent wine made mostly from blend of berries & fruit, fermented with honey from the prairies of the Midwest. Excellent blended with wheat and other domestic beers.
Wine Specs
Fermentation
Stainless Steel
Product Reviews
Erin Gallagher
(Apr 13, 2017 at 11:16 AM)
This was served at our bi-annual tasting event. At first it was very heavy. I have to say though that it is very pleasant and paired really well with everything else we were serving. It is a bit heavier in mouth feel than the others I'd tried. The flavor profile is delightful. Goes really well with Cornish Meat Pies and things that are heavy and savory. It's a lovely contrast.