TOP
Apple Cin
750 ml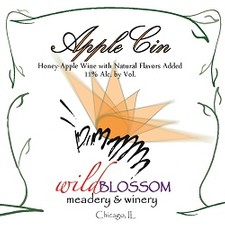 Wine Specs
Fermentation
Stainless Steel
A sweet spiced mead fermented with apples, cinnamon, and other spices. Excellent cold and perfect hot with a stick of cinnamon.
Wine Specs
Fermentation
Stainless Steel
Product Reviews
Bryan Tupper
(Sep 10, 2016 at 8:42 PM)
VERY nice flavor and goes down so smooth. Tastes just like apple pie!
Kelly Schueman
(Dec 23, 2016 at 12:20 AM)
I had this at Tribe's Ale House in New Lenox.. It was part of one of the best meals I had ever had.. I bought this for all the people I live the most for Christmas this year.. Amazing!
ann hutsell
(Sep 20, 2017 at 6:19 PM)
Delicious!!
denise betka
(May 21, 2020 at 8:27 AM)
This is sooo good. Like drinking an apple pie
Alison
(May 26, 2020 at 7:50 AM)
Loved it!
Jennifer
(Jul 13, 2020 at 9:14 AM)
So good! One of my all time favorites