TOP
PB&J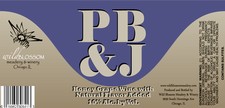 Jammy concord grapes and roasted peanuts come together to recreate this classic sandwich for kids that are all grown up.

Product Reviews
Lori
(Nov 3, 2021 at 9:15 AM)
Interesting Wine! I tasted PB First then PURE Grapey Goodness! Others in my party tasted Grapes first. Bought a couple to have as a novelty, possibly for a tasting.
Jen Bomba
(Apr 17, 2022 at 9:00 AM)
I tried this at Brew and Vine in Tinley Park and it was by far the best wine I have had in a long time! I had three tastings and then bought a bottle. I will definitely be coming to get more!