TOP
Pirates Blood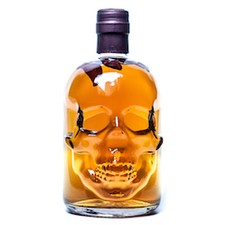 Wine Specs
Fermentation
Stainless Steel
Three types of chili peppers give this capsicumel a fiery, smoky flavor balanced by the sweetness of honey.
Wine Specs
Fermentation
Stainless Steel
Product Reviews
Denise Powell
(Oct 14, 2017 at 2:59 PM)
Phenomenal spicy hot mead with a slightly sweet taste and no "after burn". This mead will be a regular in my cabinet!
Peter Birren
(Dec 14, 2017 at 5:10 PM)
My favorite fun drink. Great for parties and toasts. Leaves a wonderful impression without burning the throat.
Stef Martin
(Jan 17, 2018 at 11:54 AM)
My new wine favorite! I love the unique spicy flavor with the red peppers floating in this glass skull jar!!!
Dan Wilson
(Oct 19, 2018 at 9:15 PM)
The taste is unique. Unlike any other alcohol beverage. The pepper taste of this mead is one of a kind.
Nichole
(Apr 29, 2019 at 8:17 AM)
Really like the progression of flavors. You get the honey first, and then a hot spice. It finishes with a really nice smoky flavor.
Linda Venn
(Aug 16, 2020 at 8:49 PM)
This looked scary when her saw it on the shelf. Left. Returned to buy it anyway. This was the best mead I've tried!! Simply amazing flavor.Buying bottles for my whole family!!
Uploall
(Dec 12, 2020 at 12:29 AM)
Precio Viagra De 100 Immock cialis order online Fesimida Propecia Buy Online Canada