TOP
Prairie Passion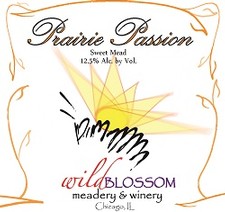 Wine Specs
Fermentation
Stainless Steel
Stronger in alcohol and honey flavor than Blanc de Fleur. Made in the traditional style of "Honeymoon" or aphrodisiacal meads.
Wine Specs
Fermentation
Stainless Steel
Product Reviews
Erin Gallagher
(Apr 13, 2017 at 11:19 AM)
This was absolutely delicious. We served it at our biannual tasting event. This was deliciously balanced and fragrant. It was also smooth and sweet but not cloyingly sweet like other meads I've had that were not Wild Blossom offerings. I really enjoyed this one with our charcuterie plate that we had. It was a nice contrast to the savory and heavy traditional sausages and smoked meats.
Eli Wyand
(Nov 29, 2017 at 8:34 PM)
I ordered this as a surprise to share with close friends for Thanksgiving. It was perfect as a perfect ending for the meal, sweet without being syrupy, rich but not overpowering. I'll definitely be ordering this again.
Sam Cotugno
(Oct 28, 2018 at 10:19 AM)
Always a fabulous choice. Coming from the far north suburbs of Illinois and hanging out with a bunch of renaissance faire nerds, I decidee to show them genuinely amazing mead for our latest get-together. Wild Blossom did not disappoint. After my praising this mead for MONTHS, I'm sure they expected me to be exaggerating as usual. I was excited when I saw that they knew I had been telling the truth.
In a seriousness, Prairie Passion is an exceptional mead without any extras so that you can truly understand the quality.
Dale V Mattson
(Jan 5, 2019 at 11:28 AM)
Our daughter purchased us a bottle of Prairie Passion as a Chrstmas gift. Honestly, the product is outstanding. This is easily comparable to the reserve meads from other distilleries and for us, here in So. Cal., nothing like this is available locally. We're in the process of ordering more. As a hobby beekeeper, I give this product 5 Stings! LOL! Try it, you won't regret the choice.
Patty
(Apr 30, 2020 at 9:15 AM)
This was lovely. Very balanced.
Dawne
(May 15, 2020 at 9:03 AM)
Feels like sitting in a meadow on a lovely day. On the sweet side. Like breathing flowers🌼.
Barbara
(Oct 31, 2021 at 10:40 AM)
This is absolutely perfect - my go-to mead. Well balanced and not bitter at all, like meads sometimes can be. This graces my table for every holiday and special occasion.